Concert en images: Jean- Marc Schneider ( emballage: michel)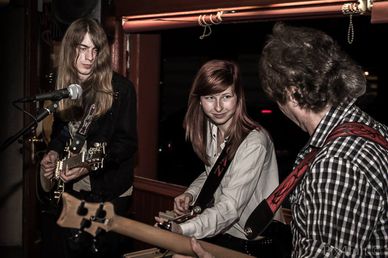 Le Petit Futé décrit Le Godefroid...Une petite taverne sympa, à deux pas de la gare. Ici, on ouvre tôt et on ferme tard, parce que la fidèle clientèle n'a pas d'heure. Le samedi soir, on replie quelques banquettes pour faire de la place à un petit orchestre qui joue du rock, du blues, du country ou du rockabilly. En se serrant un peu, ce qui réchauffe aussi les coeurs, on peut se trouver une petite place pour écouter ces jeunes (et parfois vieux) talents. Inutile de préciser que la carte des bières est à la hauteur des rafraîchissantes ambitions de l'endroit....
Pas mal de groupes ont déjà squatté le bar: Buddy Brent, Unplugged, les  fabuleux Noisy Neighbours de Geneviève Dartevelle, Nashville Roots, Sloppy Joe etc...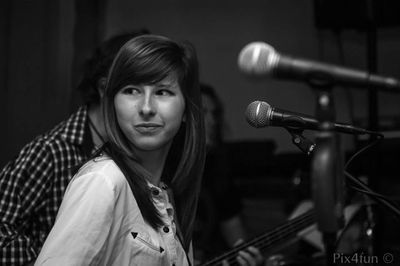 Ce 7 juin Le Godefroid accueille une future star  Morgan Bernard et le MBB.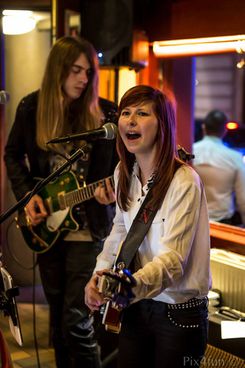 Que dit la bio?
 Morgan Bernard was born in Brandon, Florida on January 13, 1998, parents français,  lovée dans les entrailles de sa maman elle décide qu'elle sera chanteuse.
Piano encore mioche, guitare deux ans plus tard, compose à 9 ans, Morgan Mozart se met au chant à 10 ans!
Elle tâte de la contrebasse, du théâtre, puis monte un groupe.
 2011, un EP deux titres, puis 'Give it all', a 6 title EP, elle remporte le battle of the bands (at the Orpheum Ybor City) et prépare un premier full CD avec l'aide d'un certain Johnny Hallyday ( certains l'annonçaient en avant-programme pour quelques dates  aux States, à première vue le plan a foiré), pour la petite histoire Brian Setzer est fan également...
Pas con comme parcours.
Printemps/été 2014 une tournée en France/Belgique,  le Morgan Bernard Tour 2014 - Rock n 'roll Attitude.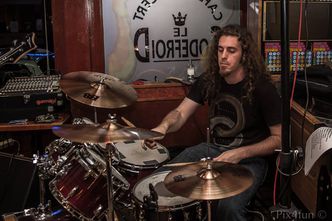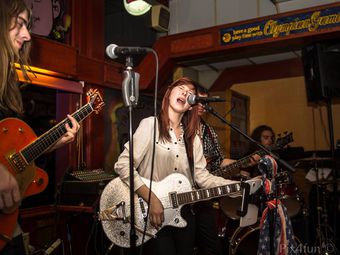 Line-up annoncé:
 Morgan Bernard : Rhythm guitar and lead vocals
Michael Holton : Lead guitar/vocals
Joe Bloom : Drums
et le français Dominique Dhilly: basse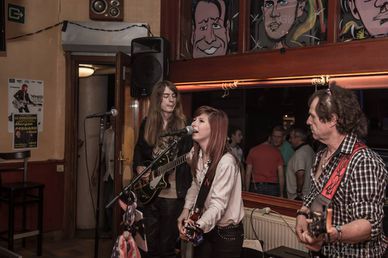 Style?
 Du pop rock aux accents country... moins pop, plus musclé et fougueux qu' Avril Lavigne, moins pute et artificiel que Lady Gaga, et, de plus, un bon goût à toute épreuve... la preuve sur son blog:
today's programme is about cheese, chicken burgers, drinking beer and supporting Belgian soccer team in a bar...
Le 28 juin à Chimay (European hot rod and custom show) - le 6 juillet à Wandre ( Liège) avec Smooth and the Bully Boys!
Featured Guitarist in Gretsch.com
Morgan Bernard
Morgan Bernard isn't your typical high school student. Rather than studying for exams and hanging out with friends, Morgan spends her time after school playing concerts, writing songs, and performing on TV . . . living the life of a typical rock star! Morgan's musical talents were apparent at an early age: she started playing piano at six, guitar at eight, and singing and performing on stage by the age of ten.

Morgan names a diverse group of musical influences from Lady Gaga and AC/DC, to Brian Setzer and Elvis. Her stage show is "an eclectic blend of straight ahead rock, hook-laden pop rock originals with some fun rockabilly thrown in for good measure" the highlight of which is an original song co-written with songwriter Jesi Kettering called "Shame," an anti-bullying anthem. Morgan feels strongly about bullying and has turned "Shame" into a music video that she hopes will inspire others to stand up to bullies. The video can be viewed here and on her website where her debut CD, Give It All, is also available. Give It All was the result of a collaboration with world-renown guitarist and producer Mike Pachelli, who, after seeing Morgan perform, invited her to record in Nashville.

Morgan and her band continue to play all over the Southeast and are currently booking a European tour scheduled to kick off this summer. In the meantime, her days are spent attending school (where she's a straight-A student) and her nights and weekends are dedicated to her one true love–music!
Photo gallery of Morgan Bernard's Orpheum performance below….
The first thing you notice about Morgan Bernard is not the studded boots, it's not that she's an adorably cute young woman, it's not the driving rock 'n roll rhythm laid down by her band just before she takes the stage, it's not even her boundless talent. What you'll first notice about Bernard happens before she even straps on her electric guitar and walks up to her center stage microphone. What you'll notice, what everyone immediately noticed during her CD release party at the Orpheum in Ybor City on Friday night, was her presence. In the seconds it took to walk across the stage, grab her guitar and start singing, she made her presence known. Morgan Bernard has "It"; the mysterious, inexplicable, yet entirely recognizable feature of someone who is going to go places few people will reach. Bernard, a girl from Gibsonton, is destined to be a star.
Bernard and her band rocked the Orpheum on Friday night as part of a performance for the release of her new CD entitled "Give It All." By Sunday, she was rocking out in a theater in Nashville, Tennessee. Her presence, her talent, her music are taking her places and that is not mere happenstance. She decided at the age of 10 what she wanted to do. Now, at only 14, it is already coming to fruition. At an age when many of her peers still struggle to avoid putting their clothes on inside out, Bernard is fronting a rock band. Only 14 years old and she looks equally at home with her guitar on stage as she does running around laughing, pre-show, with her friends and Nathalie, her band's young drummer — doing all the things teenage girls do. But when she gets on stage, the teenage girl becomes a serious musician. She literally takes the stage and owns it.
Bernard is no Mouseketeer. She is a rock 'n roller through and through. But unlike the tragic handful of notable young people who went from wearing mouse ears to stardom to rehab, Morgan Bernard is a straight A high school student who appears to have avoided self-absorption and values her friends and family as much or more as she values her growing stardom. She occasionally misses school for shows or interviews, but she is smart and is motivated to succeed in everything she does.
"My motto for anyone trying to get to a goal, whether it is a young person trying to be a musician or anything else, just give it all and never give up," Bernard said.
That motto became the title of her first album.
Bernard is also giving it all for a good cause. She has joined an anti-bullying effort and one song, entitled "Shame," on her new CD, along with a music video, is dedicated to that cause. It's no small effort. Increasingly, bullying is reaching tragic new lows for victimized young people. It is even claiming lives.
"The song started out as just one person getting bullied and finding her confidence to stand up for herself," Bernard said. "But the song gained more meaning when my actual friends told me their own stories about bullying and I realized it was a bigger problem than I thought. Now I'm trying to work to get to the solution to this problem."
Her talents range across multiple instruments, with her voice and guitar-playing headlining her act. Her musical inspirations range from AC/DC to Lady Gaga and Elvis, a wide range of musical styles that are reflected in her wide-ranging abilities. She also acts and has appeared as an extra on the locally produced, award-winning family television series, Dry Creek.
Her Facebook page lists her as a self-employed entertainer. Her musician page, already with thousands of fans, is rapidly growing. Brimming with talent and possessing the presence of a star, there is little doubt Bernard will go around and to the very top of the world. But there is also little doubt that this young girl from Gibsonton will never forget where her home is. In a mere 14 years of life, Morgan Bernard has not only figured out what she wanted to do, she is already making it happen — by giving it her all.
For more information, visit her website at www.morgan-bernard.com or her Facebook page atwww.facebook.com/MorganBernard.Singer. She is also on the musician's website, ReverbNation at www.reverbnation.com/morganbernard and on YouTube atwww.youtube.com/user/morgannmegan.
To find out more or to contribute to her anti-bullying effort, visit www.bullyingisugly.com.
Morgan Bernard: Kids These Days Indeed!!!
1. 
 Strummerson1 day ago
If you haven't gone to Morgan Bernard's site and listened, you should. Talent and class and message: http://morgan-bernard.com/f...
There's lots of negative talk in these pages about 'kids these days.' But there are plenty of creative young people out there with something to say. And contemporary technology enables them to produce and disseminate their art in ways many of us couldn't have dreamed of "back in the good old days."
All this negativity from us old fuddy duddies, though in many cases unintentional, threatens to discourage younger members, the very ones we should encourage and support.
Maybe there should be a specific forum to encourage and support young GreTscH slingers like Morgan. Those who are discouraged about today's youth in general should be particularly motivated to support those involved in positive and creative deployments of GreTscH.
o    Reply▼   options
I'll second that, Strum. She seems like a nice young lady, and 'Shame' is a great song. There's a soon-to-be 16 year old in my house who just might be getting that CD for her birthday!
o    Reply▼   options
I love it. Go Morgan!
o    Reply▼   options
Good words, Strum. The kids are alright.
o    Reply▼   options
Quite impressive.
o    Reply▼   options
The lady's got talent!
o    Reply▼   options
She is a real talent and this feels like the making of a star. Perhaps the young do need their own forum but I would also add that they need this one as well. We just need to realize how we can help and keep her and others on the right track. Everybody needs a foundation.
o    Reply▼   options
Yes indeed. I meant a forum here on the GDP dedicated to young players.
o    Reply▼   options
Even better.
o    Reply▼   options
It's insane watching people the same age as you have the talent you're working as hard as you can to get.
She's great!
o    Reply▼   options
11.          
 Olivia__Anne4 hours ago
I can attest to Morgan's kindness and loving heart. Her talent is clear, and her love of GreTscH total. Here's a video she just posted to Gretsch Fans on Facebook from one of her most recent gigs "Morgan Bernard and her band performed : Shame at Aces lives in Brandenton":
http://www.youtube.com/watc...
Edit: BTW for what it's worth, my opinion is that she's precisely where she needs to be, here. After all, as I hear periodically, It's Rock n Roll. She'll do just fine right here, right folks.
o    Reply▼   options
12.           4 hours ago
I hope that when I have kids, Morgan is on their play list.
o    Reply▼   options